Exceptions to the Rules – Do you know what they are? And how to use them?
Consumer Commodity, ORM-D, Limited Quantity, (LTD QTY), Excepted Quantity, Small Quantity Exception, Deminimis, and Materials of Trade
---
Wow! We're looking at six possible exceptions from four different regulations; IATA, 49CFR, IMDG, and ICAO. How can there be so many exceptions based on quantity?
Let's start with Limited Quantity because we can find it in all of the regulations. But just because it's shown in all of the regulations doesn't mean the requirements are the same – They're not. 49CFR (Code of Federal Regulations), Hazardous Materials Table, Section 172.101, Column 8a is Titled, Exceptions. Here you'll find a three digit number or the word – "none." If the latter is shown, Game Over - your material may not be shipped as a Limited Quantity. If there's a three digit number, this indicates, you must go to Section 173 followed by the three digit number. Section 173.150 for Class 3, Flammable Liquids for example. Section 173.151, for Class 4 Flammable Solids, 173.152, for Class 5, Oxidizers, 173.153, Class 6, Poisons, 173.154, Class 8, Corrosives, etc., etc.
When you finally get to one of these sections, you are greeted with three paragraphs. The first paragraph says, you're not supposed to be there unless column 8a says you can be there. The second paragraph says, you may ship these materials in Limited Quantities but only in certain Packing Groups, and only in certain quantities based on those Packing Groups. The third paragraph talks about Consumer Commodities - which is another session.
The other regulations are a bit more user friendly. IATA, Section 2.7.2.1 and ICAO, Section 4.1, just come right out and tell us which Classes and Packing Groups of Dangerous Goods may be shipped as Limited Quantities. They also tell us the maximum net quantity which may shipped as a LTD QTY right in the List of Dangerous Goods. The IMDG also tells us right in The List of Dangerous Goods which materials are authorized to be shipped as Limited Quantities. They also provide guidelines in Section 3.4.
Okay, we now know we can ship these things called Limited Quantities – But how do we do that? For the most part we need a good box and a Mark which usually comes in the form of a Label. The game changer with a Limited Quantity is the box. UN Specification Packaging is not required but the box still has to be tested to some degree. The Mark as shown comes in two flavors. Both flavors are accepted by Ground or Ocean – But by Air, we must use the Y Mark which harmonizes with their Y Packing Instructions.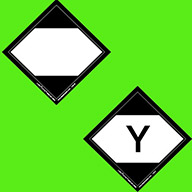 Lastly, we have the paperwork - at least for Air and Ocean. A Shipper's Declaration for Dangerous Goods is not required for Limited Quantities when being transported by Ground in The United States.
Okay lastly, (I mean it this time), There's nothing in any of the Reg's that say, If you're shipping LTD QTY's, you're excepted from training – It's not there – Training is required!
A little too much for me at one setting. We'll tackle the other exceptions in another session.